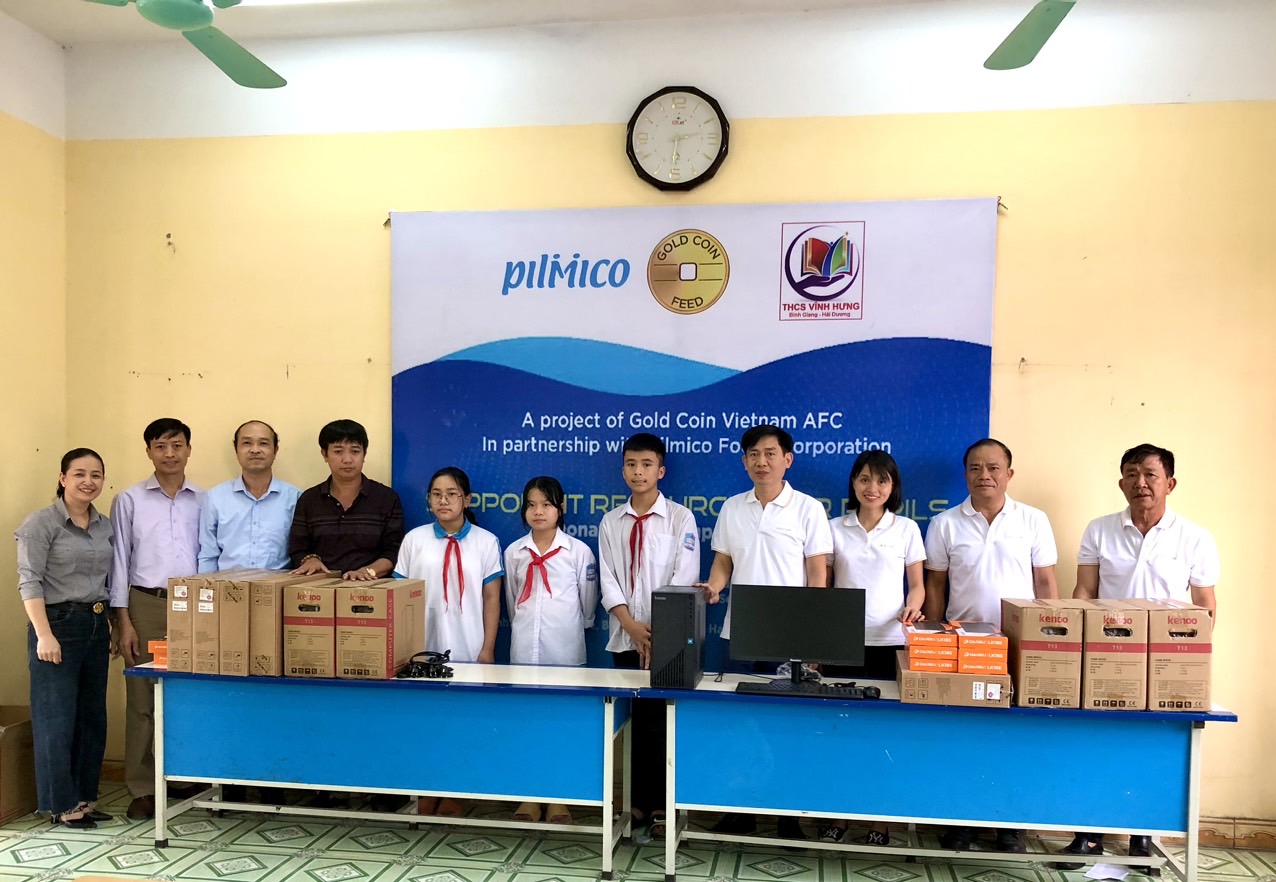 Gold Coin Vietnam and Malaysia give back to their communities
Gold Coin Vietnam donates computer units to students
Representatives from Gold Coin Vietnam, Vinh Hung Junior High School officials, and students attended the turnover ceremony for the computer units donation.
Team members from the Food Group in Vietnam gave back to Vinh Hung Junior High School, which extended help during the pandemic lockdown.
During the height of the Covid-19 pandemic, Binh Giang district in Vietnam was put on lockdown, restricting the mobility of Gold Coin employees working on-site in one of the feedmills. Thankfully, Vinh Hung Junior High School, located beside the feedmill, arranged the accommodation of the employees.
As a simple way of giving back to this gesture, Gold Coin Vietnam donated computer units to the school to help improve its students' computer and Information Technology skills.
Six students each received a computer unit and other related devices to support their needs. The donation amounts to 90 Million Vietnamese Dong, equivalent to around 210,000 Philippine pesos.
Gold Coin Malaysia builds chicken coop in Pahang community
Team members of Gold Coin Malaysia built chicken coops in the community of Pahang last January 13, 2023.
Meanwhile, Gold Coin Malaysia extends support to the indigenous community in Pahang through their project, "Building A Resilient Native Community."
This project aims to assist the community in establishing a sustainable livelihood to provide nutritious food for their families by building a chicken coop. Gold Coin Malaysia will provide chicken coops, chicks, and feeds with additional engineering and manpower support and technical assistance from their veterinarians. For the Gold Coin team, the community must receive constant support and monitoring to help ensure the livelihood project's sustainability in the future.
Gold Coin employees join the community of Pahang in constructing the coops.
Last January 13, 2023, 11 team members of Gold Coin Malaysia, led by their General Manager, Melvan Law, started building the chicken coops in Pahang. They laid the cement flooring for two cages and showed the community the proper method of sanitizing the chicken coop.
As Pilmico and Gold Coin Group contribute to the Aboitiz Group's mission of advancing business and communities, they give back by providing sustainable livelihoods and giving communities the right set of equipment and skills to equip them for the future.