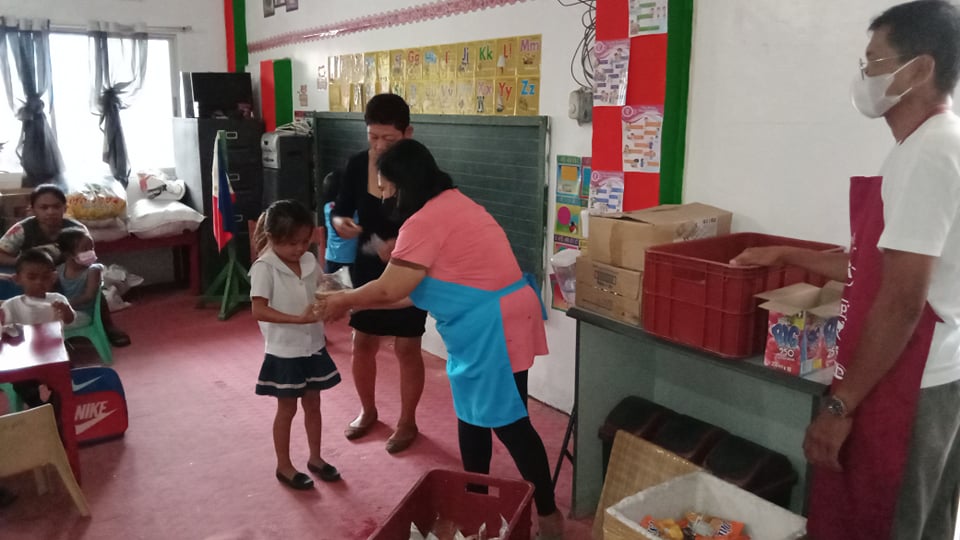 Pilmico gives livelihood assistance to ASF-hit swine raisers in Mindanao; Cebu-Bohol beneficiaries give back to communities
Pilmico's flagship livelihood program provided egg machine and quail egg kits to swine raisers in Mindanao last September and October.
Pilmico Foods Corporation's (Pilmico) Livelihood Kit Program is their flagship corporate social responsibility (CSR) initiative that aims to help backyard farmers, bakers, and aspiring agribusiness entrepreneurs nationwide by providing them with sustainable livelihoods.
Staying true to the Aboitiz Group's promise of Advancing Business and Communities, Pilmico has extended assistance to those in need, such as Typhoon Odette survivors and ASF-hit swine raisers in Mindanao. While this promise remains for the Aboitiz Group, Pilmico's beneficiaries have also imbibed this idea by giving back to their communities.
Cebu-Bohol livelihood beneficiaries give back
Bakery Livelihood Kit beneficiary Leonida Tambalo from Bohol held a feeding program for daycare students.
Last July 2022, Pilmico in partnership with Aboitiz Foundation, Inc. (AFI) and Ramon Aboitiz Foundation, Inc. (RAFI), donated livelihood kits to Typhoon Odette survivors in Cebu and Bohol as part of their "Padayon sa Pagbusay" (Paddle Unceasingly) program.
Last November, beneficiaries conducted various feeding programs for kids and less fortunate within their communities as a way of giving back. Leonida Tambalo, a Bakery Livelihood kit beneficiary from Ubay, Bohol, gave bread and juice to over 20 daycare students. Meanwhile, Teofista Apura, an Egg Machine kit beneficiary from Carcar City, Cebu made a simple lunch meal for more than 30 people.
According to them, this is their simple way of expressing gratitude to their livelihood kit donors, Pilmico, AFI, and RAFI, who supported them and continue sustaining their businesses. 
Alternative livelihood opportunities for swine raisers
Various beneficiaries from the CARAGA, Misamis Oriental, and Lanao del Norte regions received livelihood kits to serve as an alternative source of income.
Aside from Typhoon Odette survivors, another sector that currently needs an extra boost is swine raisers, who are still recovering from the effects of African Swine Fever (ASF).
Pilmico, in partnership with AFI, extended livelihood kits to swine raisers in the Mindanao Region last September and October. Egg Machines and Quail Egg kits were distributed to 26 backyard farmers as an alternative source of income.
"Successful entrepreneurs are not built overnight and the biggest factor in the success is the dedication of the owner. This livelihood is only the start and we are hopeful that this livelihood will grow in the future. We, in Pilmico, guarantee to help the beneficiaries all throughout this journey. Mabuhay ang backyard farmers," said Floreda Molina, Regional Sales Manager of Pilmico.
Ten beneficiaries received egg machine kits; each kit includes 96 ready-to-lay hens, Pilmico feeds good for 1 month, a weighing scale, and animal health products. Meanwhile, 16 beneficiaries of the quail egg kits received 200 ready-to-lay quails, feeds for 1 month, and animal health products. Aside from these livelihood essentials, beneficiaries will also have access to technical assistance provided by Pilmico.
Pilmico conducted a series of turnover ceremonies last September 21 for CARAGA beneficiaries, October 26 in Misamis Oriental, and October 29 in Lanao del Norte.
Dr. Perla T. Asis, DM, City Veterinarian of Cagayan De Oro extends her gratitude to Pilmico. "The City Veterinary Office appreciates the project of Pilmcio to distribute these livelihood kits to the beneficiaries that would help them earn additional income. This project will be a good opportunity for the beneficiaries to recover from the loss brought by the ASF," she said.