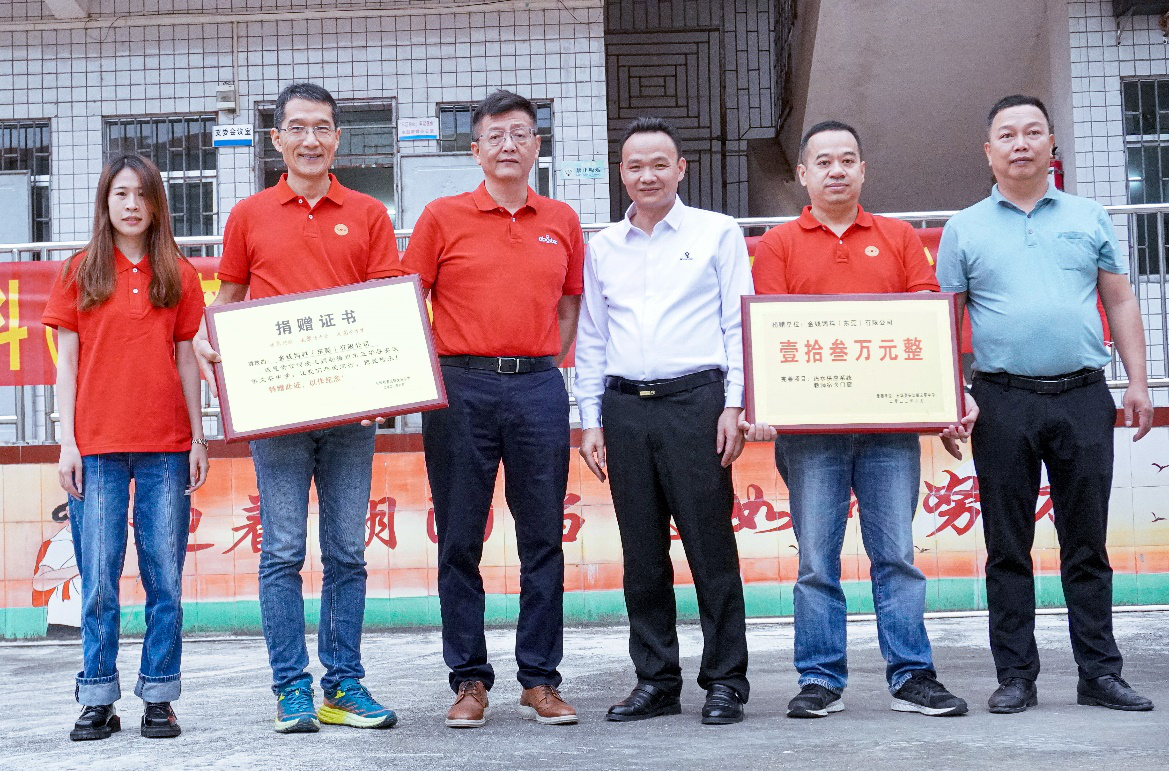 Schools and students in China receive support from Gold Coin
Students from Primary and Middle schools in Zhangzhou, Guangdong, and Dongguan, China receive equipment and financial aid from Gold Coin.
Gold Coin has multiple facilities spread across the southern region of China. Though they may be in different cities, they share the same corporate social responsibility (CSR) initiatives oriented toward schools and their students.
Gold Coin provides financial aid to schools in Zhangzhou and Zhuhai
Last September 16, 2022, Gold Coin Zhangzhou (China) donated to Huangtian Primary School to help supplement equipment and other tools needed by the school. Gold Coin also turned over
¥2,000 to two students who needed financial support.
Gold Coin Zhuhai representatives and members of Lianwam Primary School meet and discuss GCZH's donation to the school.
Meanwhile, in Zhuhai, province of Guangdong, Gold Coin donated ¥30,000 to Lianwam Primary School. As many students experience financial difficulties, the school will dedicate this amount to buying books and creating scholarship grants to help them complete their education.
In appreciation of the donation, a turnover ceremony was held last December 14, 2022, attended by representatives from GCZH, led by Shao Zhi Gang, General Manager, and Lianwam Primary School's principal. Thereafter, they visited the school's premises and students to understand their needs better.
Gold Coin Guangdong sets up Hot Water Supply System for dormitories
From Left to Right: Jinmei Liang, Secretary, GCDG; Yuetong Si, DGM, GCDG; Dr. Ong Kar Ching, Country Director, GCDG; Mr. Zheng, principal of Wenkui Middle School; Zengshui Liu, HR Manager, GCDG; and Mr. Xu
There are numerous poverty-stricken villages in Northern Guangdong where local schools lack funds to build facilities and provide equipment and other teaching tools. For Wenkui Middle School in Meizhou Guangdong province, one of the issues they're faced with is the lack of hot water supply in their dormitories.
Gold Coin China installs ¥130,000 hot water facility for the dormitory of Wenkui Middle School, Meizhou, Guangdong province.
Gold Coin Dongguan (GCDG) thought it would be of great help, especially for the comfort of the teachers staying in the dormitory; hence they donated the ¥130,000-facility to the middle school.
The donation's turnover ceremony was held last November 16, 2022, which members of GCDG's CSR team attended together with Mr. Chen, mayor of Anliu Town, Mr. Gan, section chief of the county education bureau, Mr. Zheng, principal of Wenkui Middle School, and its students and teachers.