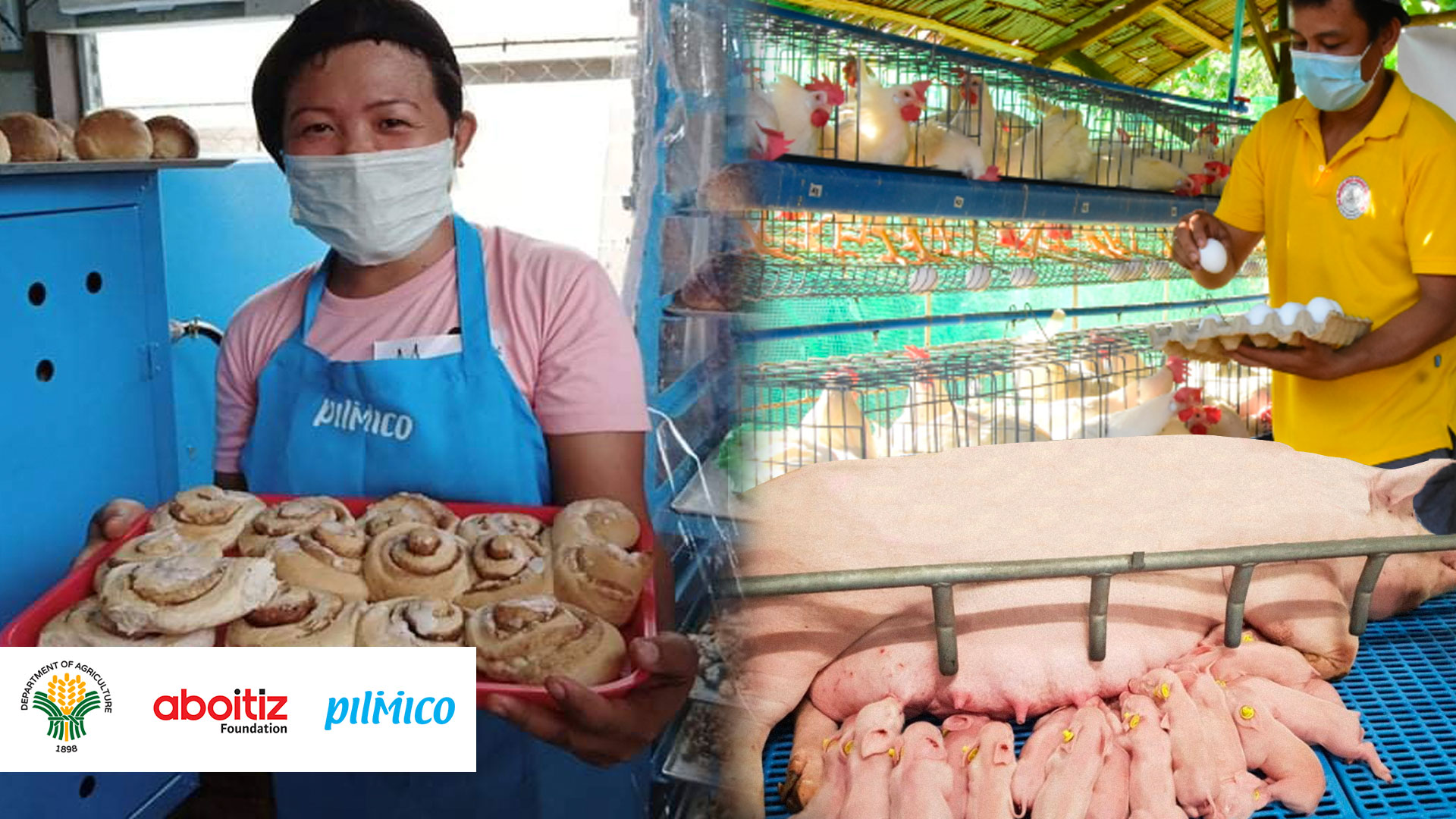 Pilmico, Aboitiz Foundation, and the Department of Agriculture partner to promote livelihood programs with "Kabuhayan ni Ani at Kita"
Pilmico Foods Corporation (Pilmico) and Aboitiz Foundation, Inc. (AFI) partnered with the Department of Agriculture (DA) for the "Kabuhayan ni Ani at Kita," a livelihood program which extends assistance to farmers and farming communities in the Philippines. The partnership was formalized through a virtual Memorandum of Understanding signing held last January 24, 2022. Signatories include Tristan Aboitiz, President and Chief Executive Officer of Pilmico; Maribeth Marasigan, President and Chief Operating Officer of Aboitiz Foundation; and Agriculture Sec. William Dar.
"Kabuhayan ni Ani at Kita" will allocate sustainable livelihood kits to select DA beneficiaries in the farming and agribusiness sectors. Low-income Filipinos can start backyard farming through Pilmico's egg machines and gilt packages, sell baked goods through bakery starter kits, and venture into the aqua sector with aquaponics livelihood kits. Apart from the kits, Pilmico will also provide technical assistance and training to help ensure the growth and sustainability of their businesses.

Poultry farmer using the egg machine livelihood kit from Pilmico
Tristan Aboitiz recognized the importance of partnerships such as this in building the foundation of a resilient and food secure country. "I believe that between the honorable team at the Department of Agriculture and different stakeholders in the Aboitiz group, we have the right group of people in place to strengthen the drive toward ensuring that our countrymen in the Agri sector get the right assistance needed to secure a role in our push for sustainable food security in the Philippines," he said.
Highlighting the Aboitiz dedication to developing communities and the country, Maribeth Marasigan said, "These commitments are anchored on our belief that the advancement of business and communities is integral to the development of our society and our country. Together with our business units, Aboitiz Foundation will accelerate our efforts and resources to drive change for a better world by co-creating communities that are resilient, empowered, and sustainable."
Secretary Dar also expressed his appreciation for the program. "Every opportunity to create sustainable livelihoods and additional income will be a big push to helping mitigate hunger and poverty in all parts of the country," he said.
"Kabuhayan ni Ani at Kita" is just one of several ways by which Pilmico is able to fulfill its commitment to further strengthen local farming and agribusinesses. As of its launch, several beneficiaries in Region 3 received farming and aquaponics kits through the Bureau of Fisheries and Aquatic Resources (BFAR) and DA. The roll-out of the kits in other regions is ongoing with more beneficiaries expected to receive them in the coming months.