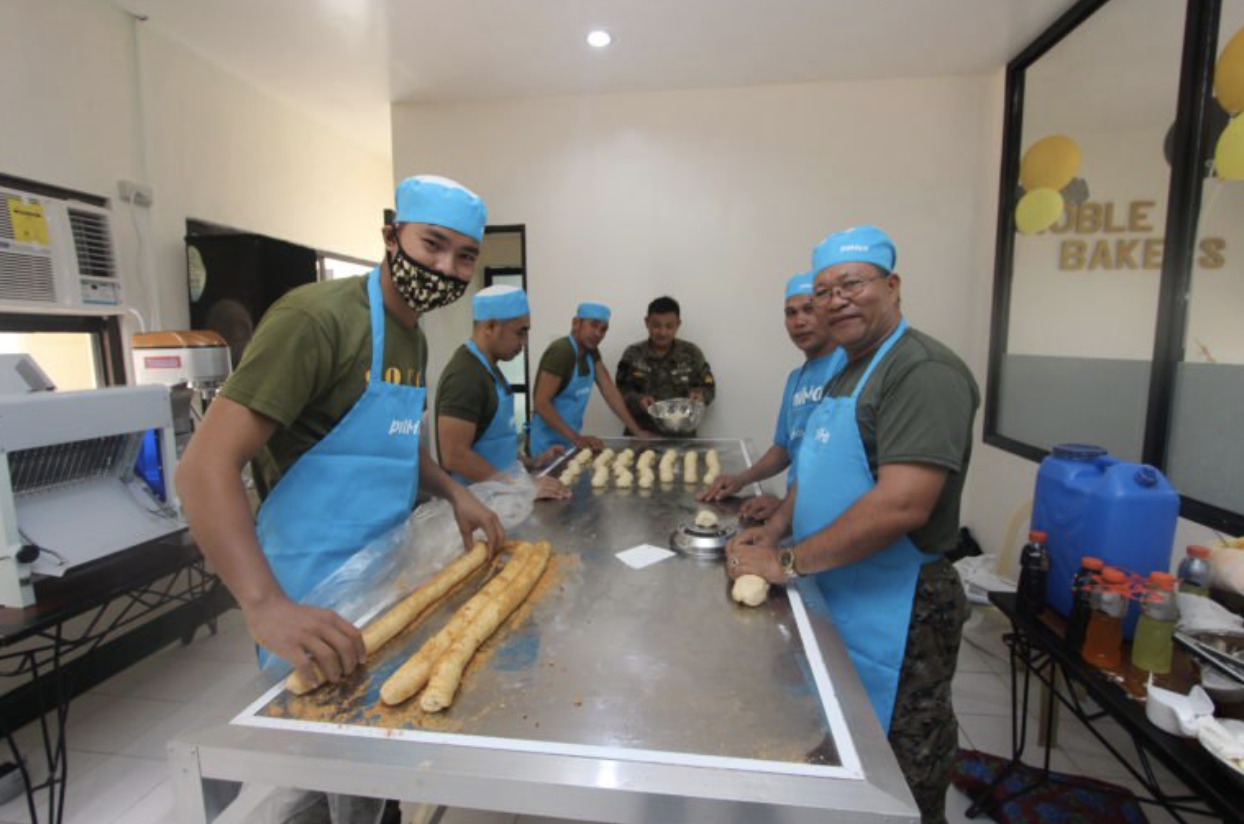 From Noble Warriors to Noble Bakers
From guns to baking pans: Wounded hero soldiers find another lease in life
Sgt. Eric Ubalde of the Special Operations Command (Socom) of the Philippine Army is no stranger from wars and battles. He had fought during the Zamboanga siege, survived encounters in Jolo, Sulu and Lanao del Sur, and most recently, fought during the Marawi siege.
He had four gunshot wounds to remind him of these battles.
Ubalde may have survived Marawi last May but he didn't leave the war-torn city unharmed. While clearing one of the abandoned houses, the Maute terrorists fired at the soldiers, hitting him in the face. That was the last time he got shot.
To date, three bullets remain inside his body. He is currently recovering inside Fort Magsaysay in Nueva Ecija.
"Di ko masyado magalaw may tumutusok. Ooperahan daw pag umangat na yung bala. Marami daw nerves na maapektuhan 'pag inopera," Ubalde said.
(I cannot move it, it's as if something stitches. They would operate it once the bullet raises. A lot of nerves will be affected once it undergoes surgery.)
Ubalde is thankful that he has survived another battle, and he is much more thankful that he found another lease in life. The sergeant has been chosen as one of the beneficiaries of the Noble Bakers' Project of the Aboitiz Foundation, the corporate foundation of the Aboitiz Group, in partnership with the Socom Foundation, Inc. (SFI).
He, along with 59 other wounded soldiers underwent a comprehensive bakery management training program provided by Pilmico Foods Corporation, the food subsidiary of Aboitiz Equity Ventures, Inc. They were taught how to cost and develop bakery products, bake bread, cakes, cookies, pizza dough, among others.
Apart from the training, the Aboitiz Foundation also donated heavy-duty baking equipment like oven, mixer and baking utensils to The Noble Baker's Bakery inside Fort Magsaysay, which was built by the Socom.
The bakery is now operational with captured market which includes the soldiers and residents inside the military reservation and as well as the neighboring schools.
The proceeds of the bakery would go to the dependents of wounded soldiers like Ubalde, Socom Deputy Commander Col. Rey Aquino said.
"Yung proceeds dito mapupunta sa SFI, yung sa special operations foundation, yan po yung nagsu-support sa mga wounded personnel natin, habang nasa ospital sila yung kanilang mga kamag-anak na nagbabantay, meron tayong pang-sustain doon," he said.
(The proceeds would go to the SFI, the special operations foundation, that's the organization that supports our wounded personnel. While they are in the hospital, they are with their family members who will attend to them, so we can also provide for them.)
Now, Ubalde finds great joy in helping his fellow wounded soldiers not with the use of guns or bullets but rather with the use of baking pans and rolling pins.
Original articles: Inquirer.net