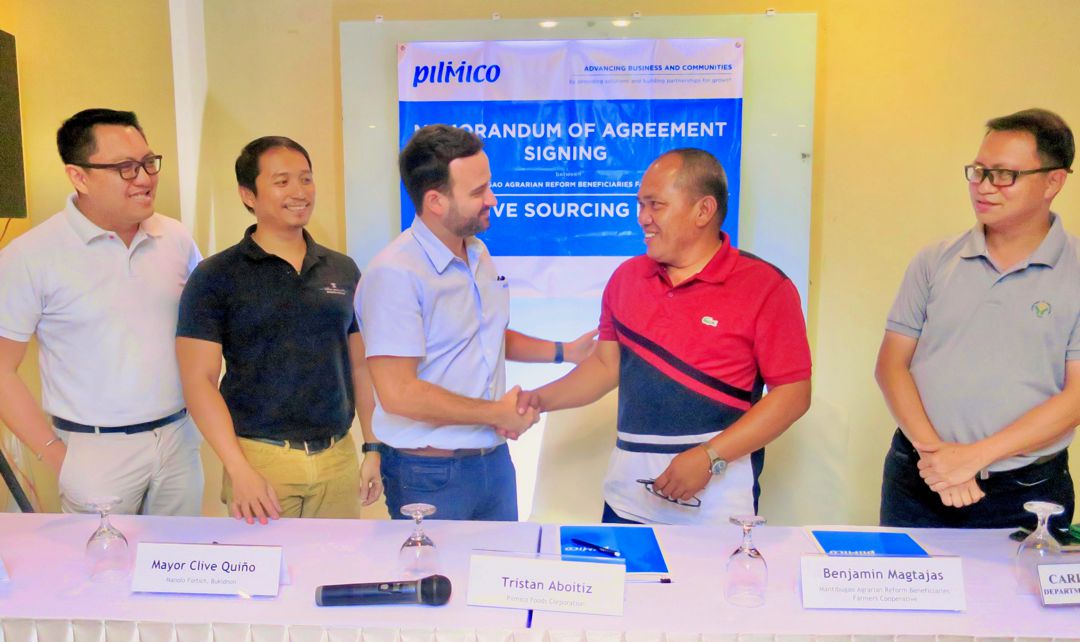 Pilmico supports Local Farming Industry through Inclusive Sourcing Program
Pilmico Foods Corporation, the food and agribusiness subsidiary of Aboitiz Equity Ventures Inc., has been producing high quality animal feeds products for more than twenty years.
In its aim to further support the local farming industry, Pilmico has partnered with a local farmers cooperative for an inclusive sourcing project for corn – a primary ingredient in producing animal feeds products.
With the support of Department of Agriculture (DA) Corn Program Team and the local government of Manolo Fortich, Bukidnon, the Mantibugao Agrarian Reform Beneficiaries Cooperative Farmers Cooperative (MARBFC) was selected as the partner corn cluster for the project.
The partnership was formalized during a ceremonial Memorandum of Agreement (MoA) signing held recently at Cagayan de Oro city, witnessed by Manolo Fortich Mayor Clive Quiño and DA Region 10 Director Carlene Collado.
This is the first time the agribusiness company has ventured in an inclusive sourcing program with a local farmers group. Under the agreement, Pilmico will be directly sourcing corn from MARBFC, which will serve a portion of Pilmico's corn requirements for its various feeds products. DA Director Carlene Collado, in his remarks, said that the project is in line with the DA's strategy in "providing livelihood opportunities and technical assistance with the hope of improving lives of farmers associations and cooperatives".
MARBFC Chairman Benjamin Magtajas expressed his gratitude to Pilmico, DA and the local government of Manolo Fortich, Bukidnon and said:
"The day that we have been waiting for has come, we thank the hard work of the Department of Agriculture, our Mayor and to Pilmico for initiating the inclusive sourcing project for corn. That is the first time that we can actually go directly to the big companies and sell our produce. Dream come true na mapatud-an sa mga farmers na kaya namo mo direkta sa mga dagko na mga kumpanya parehas sa Pilmico."

(English translation: It's a dream come true for us farmers, that starting today, we are able to work with big companies like Pilmico.)"
Meanwhile, Tristan Aboitiz, Chief Operating Officer of Pilmico, said:
"True to our purpose of advancing business and communities, we continuously look for synergies that will help promote the agriculture industry. Our partnership with the Mantibugao Agrarian Reform Beneficiaries Farmers Cooperative is a culmination of the hardwork of our partners from the DA, the local government of Manolo Fortich, Bukidnon and most importantly, MARBFC. I am honored that Pilmico is a part of this pioneer project and we hope that the successful roll-out will serve as an example for more of these kinds of partnerships in the future."